Answer
Hamartomas (chondroadenomas) are the most common type of benign lung tumor. They occur primarily in adults, although they do occasionally arise in children. Hamartomas are peripherally located. Grossly, they have a firm, marblelike consistency. Histologically, hamartomas generally consist of epithelial tissue and other tissues, such as fat and cartilage. Hamartomas can be easily enucleated, but wedge resection is also appropriate.
Hamartomas consist of haphazardly organized mature cells and tissues. Hamartomas are composed mostly of masses of hyaline cartilage with a myxoid connective tissue, adipose cells, smooth muscle cells, and clefts lined with respiratory epithelium. See the image below.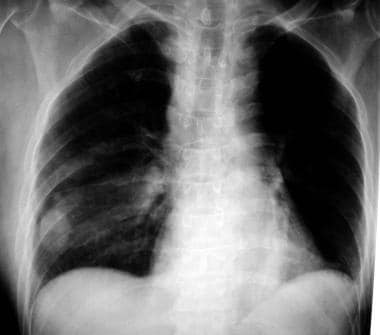 A right lower lobe solitary pulmonary nodule that was later identified as a hamartoma.
---
Did this answer your question?
Additional feedback? (Optional)
Thank you for your feedback!