Answer
In the early stages of mycosis fungoides, the histopathology is nonspecific, [81, 82, 83, 84] and the condition is often misdiagnosed as an inflammatory disorder. Early patch mycosis fungoides shows superficial bandlike or lichenoid infiltrates, mainly consisting of lymphocytes and histiocytes.
A few atypical cells with small to medium, highly indented (cerebriform), and sometimes hyperchromatic nuclei are present and are mostly confined to the epidermis (epidermotropism). They tend to colonize the basal layer of the epidermis either as single, often haloed cells or in a linear configuration, [77] especially at the tips of the rete ridges. (See the image below.)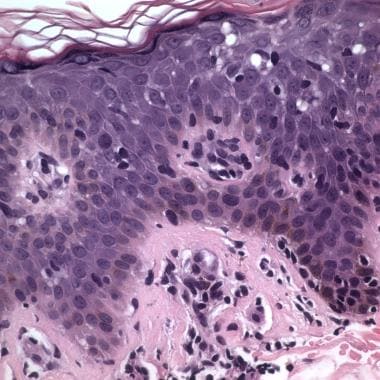 Mycosis fungoides with large, atypical T lymphocytes in the epidermis and dermis.
When a clear halo surrounds an intraepidermal mononuclear cell singly or in clumps, it is called a Pautrier microabscess. Its presence is suggestive of mycosis fungoides, but it is not necessary for the diagnosis. (See the image below.)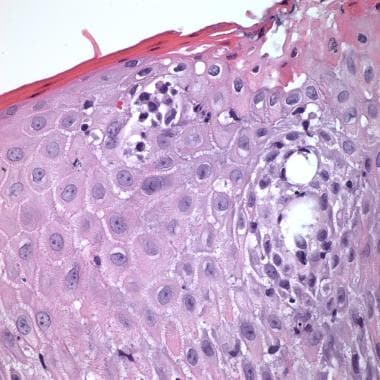 Mycosis fungoides with an epidermal nest of large, atypical T cells displaying bizarre, convoluted nuclei surrounded by a clear space (Pautrier microabscess).
---
Did this answer your question?
Additional feedback? (Optional)
Thank you for your feedback!