Answer
The patch stage of mycosis fungoides is characterized by usually erythematous macules that may have a fine scale, may be single or multiple, and may be pruritic (see the image below). In dark-skinned individuals, the patches may appear as hypopigmented or hyperpigmented areas. As the patches become infiltrative, they evolve into palpable plaques.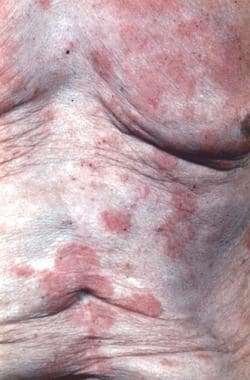 Patch-stage mycosis fungoides.
The plaques tend to be raised, demonstrating fine-scale, well-demarcated, erythematous shapes with irregular borders. Annular or serpiginous patterns with central clearing and pruritus are common. (See the images below.)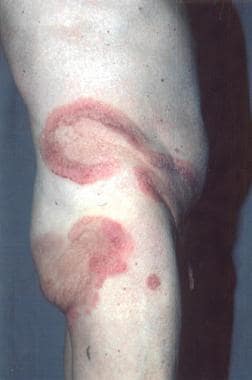 Plaque-stage mycosis fungoides.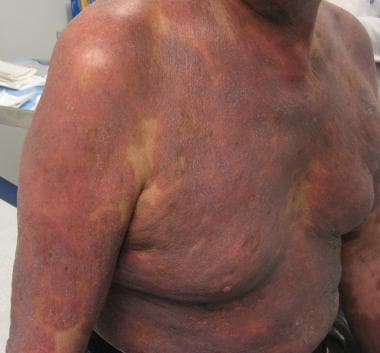 Partially confluent, erythematous plaques in advancing mycosis fungoides.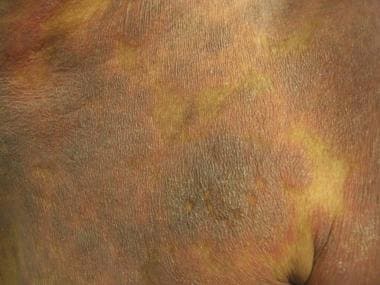 Close-up view of advancing plaque-stage mycosis fungoides with partially confluent, erythematous plaques.
Patches and plaques may affect any area of the skin, but they are often distributed asymmetrically in the sun-protected areas that a bathing suit would cover (ie, hips, buttocks, groin, lower trunk, axillae, breasts). When mycosis fungoides affects the scalp, it is often accompanied by alopecia.
---
Did this answer your question?
Additional feedback? (Optional)
Thank you for your feedback!