Answer
Classic mycosis fungoides is divided into 3 stages: patch (atrophic or nonatrophic), plaque, and tumor. Often, the first stage goes on for many years and is characterized by a nonspecific dermatitis, which usually consists of patches and is often found on the lower trunk and buttocks. Sometimes, these patches have a thin, wrinkled quality, often with reticulated pigmentation. In this stage, pruritus is usually minimal or absent. [62]
Classic mycosis fungoides is usually preceded by a nonspecific, indolent inflammatory process manifesting as atopic dermatitis, nonspecific chronic dermatitis, or parapsoriasis (most commonly large-plaque parapsoriasis), which may progress over years to decades to early plaque-stage mycosis fungoides. Some regard large-plaque parapsoriasis as patch-stage mycosis fungoides. (See the images below.)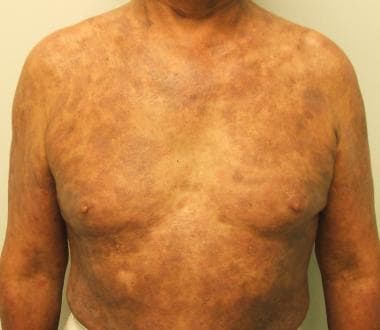 Plaque-stage parapsoriasis.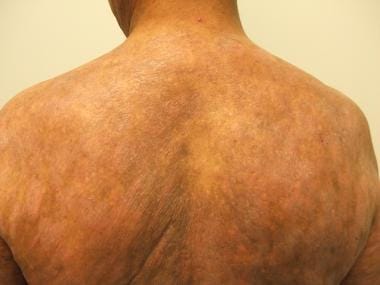 Patch-stage mycosis fungoides progressing to plaque stage, with cutaneous cigarette-paper appearance evident.
In many cases, the disease never progresses beyond this stage, and the diagnosis of mycosis fungoides is never confirmed. In other cases, the disease appears from the beginning as rather well-defined, superficial plaques that range from 2 cm to more than 20 cm in greatest diameter. In children, early stage disease and unusual forms, such as the hypopigmented variant, tend to predominate. [63]
---
Did this answer your question?
Additional feedback? (Optional)
Thank you for your feedback!