Answer
Sézary syndrome accounts for about 5% of all cases of mycosis fungoides. The patient with Sézary syndrome has generalized exfoliative dermatitis or erythroderma and lymphadenopathy, as well as atypical T lymphocytes with cerebriform nuclei (more than 1000 per mm3) circulating in the peripheral blood or other evidence of a significant malignant T-cell clone in the blood, such as clonal T-cell gene rearrangement identical to that found in the skin. (See the images below.)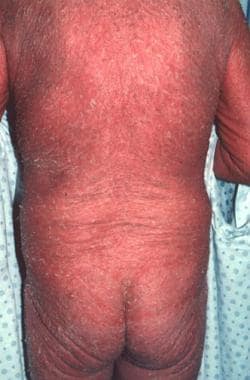 Erythroderma of Sézary syndrome.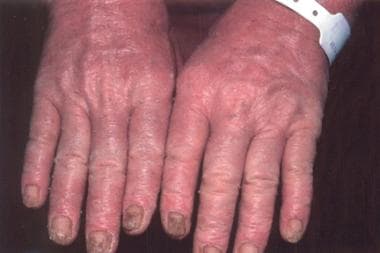 Nail changes of Sézary syndrome.
The T-cell gene rearrangement is demonstrated by molecular or cytogenetic techniques and/or an expansion of cells with a malignant T-cell immunophenotype (an increase of CD4+ cells such that the CD4/CD8 ratio is >10, and/or an expansion of T cells with a loss of one or more of the normal T-cell antigens [eg, CD2, CD3, CD5]). The circulating malignant cells tend to be CD7 and CD26 negative.
Although Sézary syndrome may be part of a continuum from erythrodermic mycosis fungoides, the WHO-EORTC classification for cutaneous lymphoma considers its behavior "aggressive." [1]
---
Did this answer your question?
Additional feedback? (Optional)
Thank you for your feedback!