Answer
In nasal-type extranodal NK/T-cell lymphoma, a disease characterized by small, medium, and large cells, the nasal cavity/nasopharynx and the skin of the trunk and extremities are involved by multiple plaques and tumors (see the image below). These lesions are frequently accompanied by systemic symptoms such as fever and weight loss, and an associated hemophagocytic syndrome may be observed.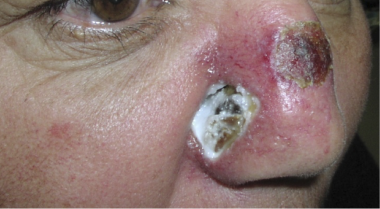 A 42-year-old woman who had moved to the United States from Peru several year ago presented with an ulcerative lesion on her face near her nose, and destruction of her hard palate. Tissue biopsy revealed NK/T-cell lymphoma. Image courtesy of Jason Kolfenbach, MD, and Kevin Deane, MD, Division of Rheumatology, University of Colorado Denver School of Medicine.
Cutaneous involvement may be primary or secondary. Because both primary involvement and secondary involvement are clinically aggressive and require the same type of treatment, distinction between them seems unnecessary. [29, 34, 35, 36]
This condition is more common in males and geographically is more common in Asia, Central America, and South America.
Dermal and subcutaneous infiltration with invasion of the vascular walls and occlusion of the vessel lumen by lymphoid cells lead to tissue necrosis and ulceration.
The malignant cells are usually CD2 and CD56 positive (NK phenotype), with cytoplasmic, but not surface, CD3 positivity. The cells contain cytotoxic proteins (T-cell intracellular antigen 1 [TIA-1], granzyme B, and perforin). Epstein-Barr virus (EBV) tests are commonly positive. Rarely, the cells may have a true cytotoxic T-cell phenotype.
Nasal-type extranodal NK/T-cell lymphoma is an aggressive disease that requires systemic therapy, although the experience with systemic chemotherapy has generally been poor.
---
Did this answer your question?
Additional feedback? (Optional)
Thank you for your feedback!