Answer
Lymphomatoid papulosis manifests as recurrent crops of self-healing, red-brown, centrally hemorrhagic or necrotic papules and nodules on the trunk or extremities; these can evolve to papulovesicular or pustular lesions. These lesions are much smaller than those of anaplastic large cell lymphoma (< 2 cm). The lesions spontaneously resolve in 4-6 weeks, leaving hyperpigmentation or atrophic scars. Variable frequency and/or intensity of outbreaks can occur in different patients. (See the image below.)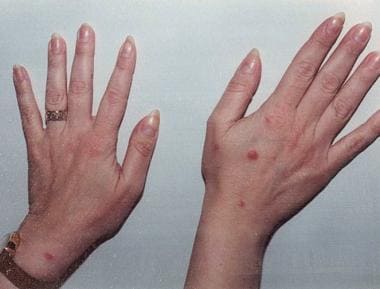 A 40-year-old woman complained of a recurrent skin rash, which she described as "bug bites." Skin biopsy results demonstrated an atypical lymphoid infiltrate that was CD30 positive. The clinical picture and pathologic findings were consistent with lymphomatoid papulosis. This condition has a benign natural history, despite clonal gene rearrangement in some cases. Skin eruptions occur in self-limited crops, which do not require treatment.
Lymphomatoid papulosis is clinically benign, although clonal T-cell gene rearrangement can be demonstrated in 60-70% of cases. Hodgkin disease, mycosis fungoides, or cutaneous anaplastic large cell lymphoma may develop in 20% of cases.
---
Did this answer your question?
Additional feedback? (Optional)
Thank you for your feedback!