Answer
MRI produces a much better examination of midbrain, subthalamic, and thalamic structures than CT scanning does. It also identifies acute stroke much earlier than does CT scanning, by highly sensitive, diffusion-weighted imaging. MRI offers various modalities that can aid in determining the age of the stroke, identify multiple or small lesions that would be missed on CT scans, and identify at-risk or penumbral tissue by way of perfusion imaging. (See the image below.)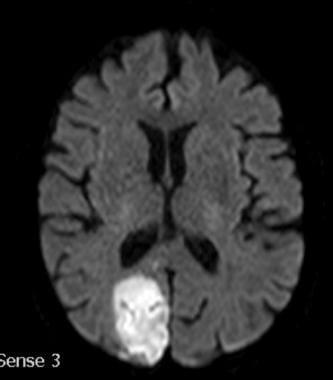 Brain magnetic resonance imaging (MRI) scan demonstrating acute stroke. Diffusion restriction is seen on diffusion-weighted imaging.
Currently, the use of diffusion/perfusion imaging studies to identify mismatch (suggesting the presence of at-risk brain tissue that is not yet infarcted) is actively being studied, but it is not the accepted standard of care.
MRA is frequently used to assess the extracranial and intracranial vasculature, but it is more prone to artifact and tends to overestimate the degree of hemodynamic compromise within vessels. (See the image below.)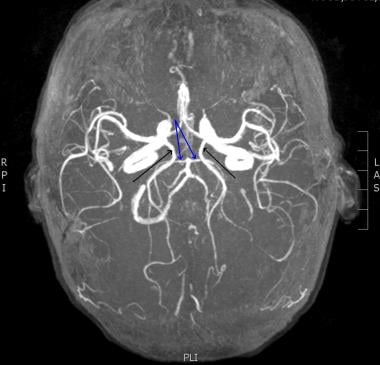 Magnetic resonance (MR) angiogram demonstrating bilateral fetal posterior cerebral artery (PCA) variants (black arrows) with the basilar artery terminating in bilateral superior cerebellar arteries (blue arrows).
---
Did this answer your question?
Additional feedback? (Optional)
Thank you for your feedback!