Answer
Abdominal imaging (see the image below) can help in identifying features of chronic pancreatitis, which is the most common cause of EPI. Because fat maldigestion is not evident until pancreatic lipase secretion falls below 10% of normal, some patients with confirmed chronic pancreatitis may not have the signs and symptoms of EPI.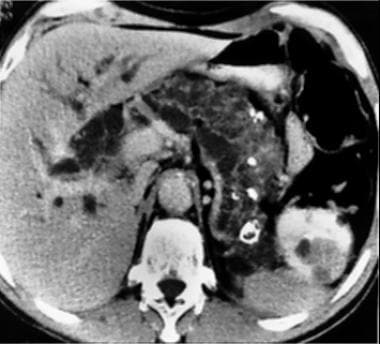 Complete replacement of the pancreas with cystic disease and intrahepatic biliary dilation caused by extrinsic compression of the common bile duct. Note also the renal cysts and masses. This patient had exocrine pancreatic insufficiency. Image courtesy of Wikimedia Commons.
---
Did this answer your question?
Additional feedback? (Optional)
Thank you for your feedback!