Answer
Laboratory diagnosis of intestinal amoebiasis in developing countries still relies on labor-intensive and insensitive methods involving staining and microscopic examination of fresh stool smears for trophozoites that contain ingested red blood cells (see the image below). [57] The presence of intracytoplasmic RBCs in trophozoites is diagnostic of E histolytica infection, although some studies have demonstrated the same phenomenon with E dispar. [17]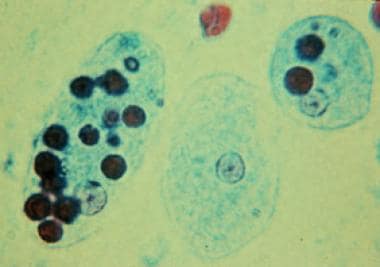 Trichrome stain of Entamoeba histolytica trophozoites in amebiasis. Two diagnostic characteristics are observed. Two trophozoites have ingested erythrocytes, and all 3 have nuclei with small, centrally located karyosomes.
Examination of a single stool sample has a sensitivity of only 33-50%; however, examination of 3 stool samples over no more than 10 days can improve the detection rate to 85-95%. It should be kept in mind that routine microscopy cannot be relied on to distinguish the pathogenic E histolytica from the nonpathogenic E dispar, E bangladeshi, and E moshkovskii.
Stool leukocytes may be found, but in fewer numbers than in shigellosis.
Stool examination findings in patients with amebic liver abscess are usually negative. Repeated stool sampling in patients with proven amebic liver abscess is positive in 8-40% of cases. Identification of the parasite in a liver abscess aspirate is only 20% sensitive.
The World Health Organization (WHO) recommends that intestinal amebiasis be diagnosed with an E histolytica–specific test, thus rendering the classic ova-and-parasite stool examination obsolete.
---
Did this answer your question?
Additional feedback? (Optional)
Thank you for your feedback!