Answer
Ingestion of E histolytica cysts (see the first image below) from the environment is followed by excystation in the terminal ileum or colon to form highly motile trophozoites (see the second image below). Upon colonization of the colonic mucosa, the trophozoite may encyst and is then excreted in the feces, or it may invade the intestinal mucosal barrier and gain access to the bloodstream, whereby it is disseminated to the liver, lung, and other sites. Excreted cysts reach the environment to complete the cycle.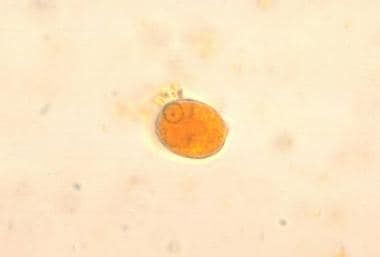 Entamoeba histolytica cyst. Image courtesy of Centers for Disease Control and Prevention.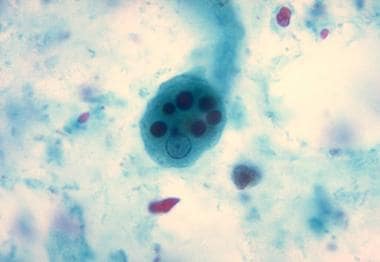 Entamoeba histolytica trophozoite. Image courtesy of Centers for Disease Control and Prevention.
Disease may be caused by only a small number of cysts, but the processes of encystation and excystation are poorly understood. The adherence of trophozoites to colonic epithelial cells seems to be mediated by a galactose/N -acetylgalactosamine (GAL/GalNAc)–specific lectin, [4, 6, 7] a 260-kd surface protein containing a 170-kd subunit and a 35-kd subunit. A mucosal immunoglobulin A (IgA) response against this lectin can result in fewer recurrent infections. [8]
Both lytic and apoptotic pathways have been described. Cytolysis can be undertaken by amebapores, a family of peptides capable of forming pores in lipid bilayers. [4] Furthermore, in animal models of liver abscess, trophozoites induced apoptosis via a non-Fas and non–tumor necrosis factor (TNF)-α1 receptor pathway. [9] The amebapores, at sublytic concentrations, can also induce apoptosis.
Cysteine proteinases have been directly implicated in invasion and inflammation of the gut and may amplify interleukin (IL)-1–mediated inflammation by mimicking the action of human IL-1–converting enzyme, cleaving IL-1 precursor to its active form. [4, 10] The cysteine proteinases can also cleave and inactivate the anaphylatoxins C3a and C5a, as well as IgA and immunoglobulin G (IgG). [11, 12]
---
Did this answer your question?
Additional feedback? (Optional)
Thank you for your feedback!