Answer
Answer
The immunohistochemical profile of pathologic structures seen in amyotrophic lateral sclerosis (ALS) is shown in Table 1 below.
Table 1. Immunohistochemical Findings of Pathologic Structures Seen in Amyotrophic Lateral Sclerosis (Open Table in a new window)
Cystatin C

GFAP

pNFP

pTau

α-Synuclein

SOD-1

Ubiquitin

TDP-43

FUS

Chromatolytic neurons

-

-

+

-

-

-

-/+

-

-

Axonal spheroids

-

-

+

-

-

-/+

-

-

-

Reactive astrocytes

-

+

-

-

-

-/+

-

-

-

Bunina bodies

+

-

-

-

-

-

-

-

-

Skeinlike inclusions

-

-

-

-

-

-

+

+/-

-

Round hyaline bodies

-

-

-

-

-

-/+

+

+/-

-

Lewy body–like hyaline inclusions

-

-

+

-

-

+

+

+/-

-

Basophilic inclusions

-

-

-

-

-

-

-/+

-

+

FUS = fused-in-sarcoma protein; GFAP = glial fibrillary acidic protein; pNFP = phosphorylated neurofilament protein; pTau = phosphorylated tau; SOD-1 = superoxide dismutase–1; TDP-43 = transactive response DNA binding protein with molecular weight of 43 kd.
Ubiquitin immunohistochemical staining is very useful for highlighting neuronal cytoplasmic inclusions, which are a highly sensitive and specific marker for ALS. Notably, the Bunina body (BB), one of the pathognomonic features of ALS, is immunonegative for ubiquitin but immunoreactive for cystatin C.
The 43-kd transactive response (TAR) DNA–binding protein (TDP-43) is a major component of frontotemporal lobar degeneration (FTLD) with ubiquitin-only immunoreactive inclusions (FTLD-U). TDP-43 immunoreactivity is reported to be consistently colocalized with ubiquitinated inclusions observed in sporadic ALS (see the image below) and Guam ALS. [48, 49] However, in most familial ALS cases with SOD1 mutation, TDP-43 immunoreactive inclusions are absent despite the presence of ubiquitin immunoreactive inclusions. [48, 49]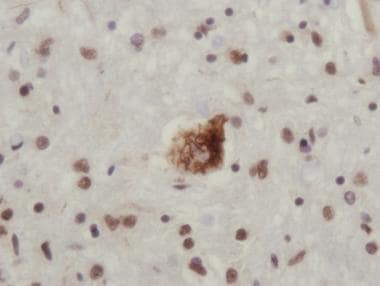 Amyotrophic lateral sclerosis. Cytopathology of affected spinal motor neurons. Skeinlike inclusions are intracytoplasmic filamentous structures found as threadlike aggregations in residual neurons. (Transactivation response DNA-binding protein 43 [TDP-43] immunostain, ×400)
In addition to the neuronal cytoplasmic inclusions, TDP-43–immunoreactive and variably ubiquitin-immunoreactive glial (probably oligodendroglial) cytoplasmic inclusions are identified within the anterior horns and close to the white matter in the spinal cord in sporadic ALS cases. [50] Basophilic inclusions (BIs) are occasionally ubiquitin-immunoreactive; however, they have been found to be labeled with antibody against fused-in-sarcoma (FUS) protein. [50]
In Guam ALS with or without Parkinsonism-dementia complex (ALS/PDC), widespread tau-immunoreactive neurofibrillary tangles, especially in the isocortices and hippocampal formation, are known to be a characteristic feature.
In frontotemporal lobar degeneration with motor neuron disease (FTLD-MND)/ALS, ubiquitin- and TDP-43–immunoreactive, tau-negative inclusions and neurites are observed in the upper layers of the frontal cortex and the dentate fascia of the hippocampus in the brain.
As a sensitive method of detecting degeneration of white matter tracts, CD68 is very useful for highlighting macrophages within the degenerated tracts, especially in early degeneration (see the image below).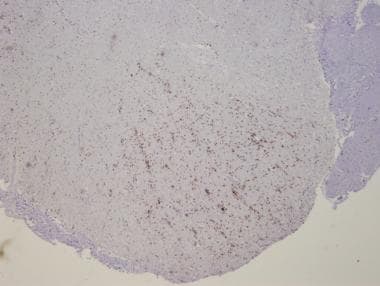 Amyotrophic lateral sclerosis. CD68 immunostaining shows abundant histiocytes in lateral column (ie, corticospinal tract) of cervical cord. (CD68 immunohistochemical stain, ×20)
---
Did this answer your question?
Additional feedback? (Optional)
Thank you for your feedback!