Answer
Headache is a common reason why pediatric patients seek medical care. Headaches can result from any of a number of causes, such as genetic predisposition, trauma, an intracranial mass, a metabolic or vascular disease, or sinusitis, to name a few. Headaches have a significant impact on the lives of children and adolescents, resulting in school absence, decreased extracurricular activities, and poor academic achievement. (See Etiology and Prognosis.) [1]
Recognition that pediatric headaches can result from primary and secondary causes is crucial to their treatment (see the image below). (See Presentation, Workup, Treatment, and Medication.)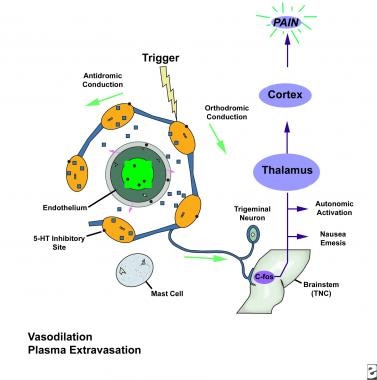 Trigeminovascular system. The trigeminal nerve fibers around basal cerebral and meningeal vessels are triggered (various stimuli are possible), and a vicious cycle starts in which the nerve terminals release calcitonin gene-related peptide (CGRP), substance P, vasoinhibitory peptide (VIP), and other mediators of local neurogenic inflammation and vasodilatation. The latter further stimulates the nerve endings. On the other end of the nerve, painful messages are transmitted toward central centers, including thalamus and cortex, and the sensation of pain arises. Modern drugs, such as the triptans, act at 3 levels, via 5-HT 1 B and D receptors; they vasoconstrict the vessels, reduce the release of the above-mentioned mediators, and decrease the central transmission of pain impulses.
The most common primary headaches in pediatrics are migraine and tension-type headaches, representing the ends of a spectrum of manifestations of similar pain mechanisms. These 2 types of headache can be episodic, or they can exist in a chronic, daily form (present 15 or more days per month for 3 or more months).
---
Did this answer your question?
Additional feedback? (Optional)
Thank you for your feedback!