Answer
The thermal energy used in bronchial thermoplasty is delivered via the Alair System (Boston Scientific, Natick, MA; see the image below). This system consists of the Alair radiofrequency (RF) controller and the single-use catheter with an expandable four-electrode basket at one end and a deployment handle on the other.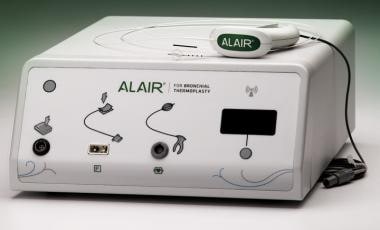 Alair™ RF Controller & Catheter. Courtesy of Boston Scientific.
The Alair thermoplasty system is used in conjunction with a flexible bronchoscope with a 2-mm minimum working channel to allow the deployment of the catheter and a 4.9- to 5.2-mm outer diameter that allows access to smaller airways.
This catheter is deployed under direct visualization through the working channel. The array of electrodes at the distal tip of the catheter is expanded to contact the airway wall circumferentially, and the source energy is then activated. The electrical energy delivered is converted into heat when it meets tissue resistance. Continuous feedback to the energy generator ensures a close regulation of the degree and time of tissue heating to the desired prespecified temperature of 65°C. [24]
All accessories must be connected for the controller to deliver energy. If the array of electrodes is not in contact with the airway wall, the front panel notifies the bronchoscopist to reposition the electrode array.
---
Did this answer your question?
Additional feedback? (Optional)
Thank you for your feedback!