Answer
The knee should be fully extended or just slightly bent up to 15°. The needle is held perpendicular to the leg and inserted medially beneath the patella at approximately the 2-o'clock to 3-o'clock position. (See the image below.) A lateral approach is also used in some cases (9-o'clock to 10-o'clock position).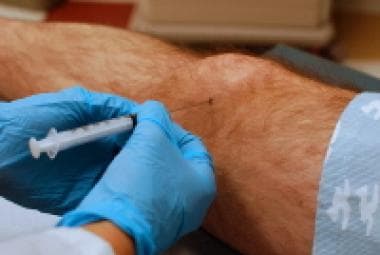 Medial approach to aspiration of knee joint.
The prepatellar pouch can be emptied by gently applying pressure and squeezing the soft tissues, starting from the midthigh and moving the hand towards the patella in order to shift the fluid toward the aspirating needle. Some have suggested that constant compression via circumferential mechanical pressure may yield improved results. [10]
A flexed-knee technique may be considered as an alternative for certain patients, such as those who are in wheelchairs, have flexion contractures, cannot be supine, or are otherwise unable to extend the knee. [11]
For more information, see Knee Arthrocentesis.
---
Did this answer your question?
Additional feedback? (Optional)
Thank you for your feedback!