Answer
In a small study, patients with pediatric MS were reported to have fewer brain MRI T2-bright foci and more frequent large MS lesions than reported in adults with MS. [33] However, more recent data collected at disease onset have shown that children with MS may have a higher lesion burden on their initial brain MRI scan than adults, especially in the brainstem and cerebellum. [4]
Brain lesions in younger children (< 11 years) tend to be large with poorly defined borders and frequently confluent at disease onset. New diagnostic criteria for pediatric MS (a revised version of the adult McDonald criteria) have been proposed; they are very preliminary, based on a very small retrospective cohort not including patients with ADEM or NMO. [43] The authors compared 38 children with MS with 45 children with migraine or lupus who had brain MRI abnormalities. The presence of at least 2 of the following 3 criteria distinguished MS from migraine and lupus with better sensitivity (85%) and specificity (98%): (1) 5 or more T2-bright foci, (2) 2 or more periventricular T2-bright foci, and (3) one or more T2-bright areas in the brainstem.
A companion paper included a retrospective analysis of brain MRI scans performed within 1 month of symptom onset in 48 children with an initial demyelinating event (28 with a final diagnosis of MS and 20 with ADEM). [44] They reported that the children could be categorized as having MS versus ADEM with 81% sensitivity and 95% specificity based on 2 of the following 3 brain MRI criteria: (1) absence of a diffuse bilateral T2-bright lesion pattern, (2) the presence of T1 "black holes," and (3) the presence of 2 or more T2-bright periventricular foci.
Periventricular white matter lesions are not specific to MS, as they are also seen in other pediatric CNS demyelinating diseases, such as NMO.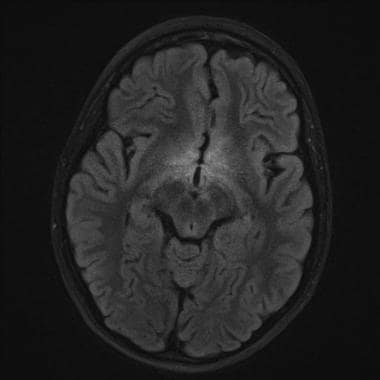 Periventricular increased T2 signal, as shown in this FLAIR image, can be seen in neuromyelitis optica given the dense concentration of aquaporin 4 water channels in this area.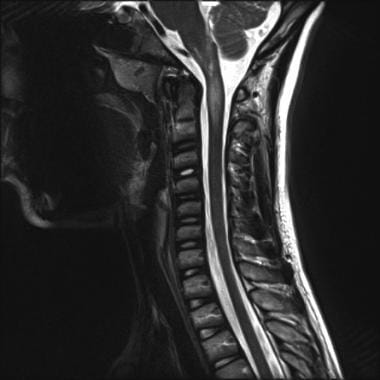 Increased T2 signal at the cervicomedullary junction, as seen in a pediatric patient with MS.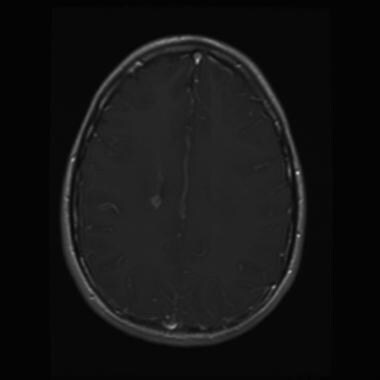 An enhancing lesion in the right superior frontoparietal region. Image 4 shows the same lesion on FLAIR imaging.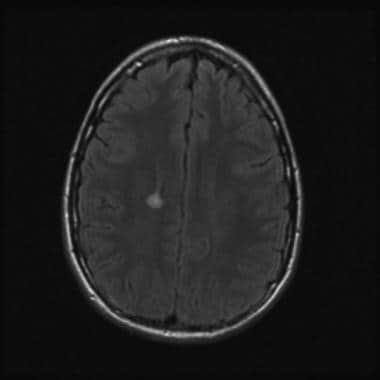 FLAIR image of lesion in the right superior frontoparietal region.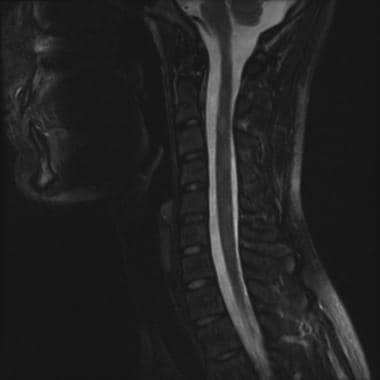 This sagittal T2 image of the cervical spine shows small hyperintense lesions typical of MS at C2 C3.
This axial FLAIR image shows bilateral, left predominant confluent signal change. There is also an area of gray matter involvement in the right frontal region. This image would not be sufficient to distinguish an episode of ADEM from pediatric MS in a pre-pubertal child.
---
Did this answer your question?
Additional feedback? (Optional)
Thank you for your feedback!