Answer
Answer
Lipoprotein (a) (Lp[a]) contains the LDL apolipoprotein B-100 (apo B100), which is covalently linked via a disulfide bridge to an apolipoprotein (a) molecule (which is highly homologous to plasminogen). [3, 5] See image below.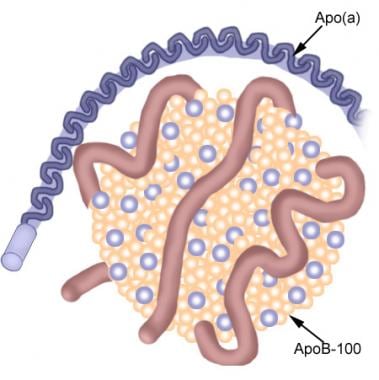 Schematic diagram of lipoprotein(a).
As a result of the fact that the apo(a) component of Lp(a) is a complex molecule with great heterogeneity, plasma Lp(a) concentrations are inversely dependent on apo(a) size. Perhaps unsurprisingly, given this level of complexity, more than 25 genetic forms of Lp(a) are known to exist; thus, the importance of the genome in determining plasma levels cannot be overstated. This, in turn, has implications for cardiovascular risk prediction across different populations. [3]
---
Did this answer your question?
Additional feedback? (Optional)
Thank you for your feedback!