Answer
Answer
Serum protein electrophoresis (SPEP) is an easy, inexpensive method of separating proteins based on their net charge, size, and shape. The 2 major types of protein present in the serum are albumin and the globulin proteins. Albumin is the major protein component of serum and represents the largest peak that lies closest to the positive electrode. [1] Globulins comprise a much smaller fraction of the total serum protein but represent the primary focus of interpretation of serum protein electrophoresis. Five globulin categories are represented: alpha-1, alpha-2, beta-1, beta-2, and gamma, with the gamma fraction being closest to the negative electrode (see the image below).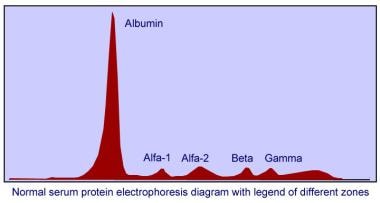 Normal serum protein electrophoresis diagram with legend of different zones.
---
Did this answer your question?
Additional feedback? (Optional)
Thank you for your feedback!