Answer
Answer
Specimen: Serum
Container: Red-top tube, serum separator tube (SST; see the image below)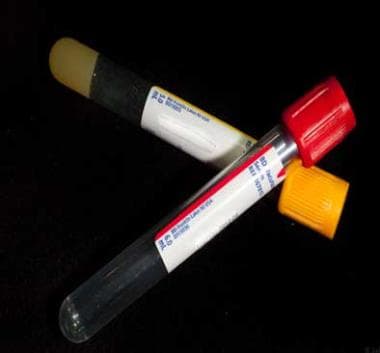 Photograph of a red-top and serum-separator (SST) tubes. (Original photo by Rapeepat Lekkham, MD.)
Collection method: Routine venipuncture
Blood must first be collected in a red top or serum separator tube. Serum, which is the fluid portion of blood after it has clotted, is placed on a specific medium and exposed to an electric current to separate its protein components. Two methods are usually used namely, agarose gel electrophoresis, or less commonly, capillary zone electrophoresis. [3, 6, 7, 8] In both methods, proteins are classified by their final position into five general regions:
---
Did this answer your question?
Additional feedback? (Optional)
Thank you for your feedback!