Answer
Answer
Infectious, Inflammatory or various reactive processes may be associated with a broad-based peak or band in the gamma region (Figure 4). This pattern suggests a polyclonal increase in immunoglobulins. Liver disease, autoimmune disease, chronic viral or bacterial infections and various malignancies may cause a polyclonal rise in the gamma fraction (see Table 2 below).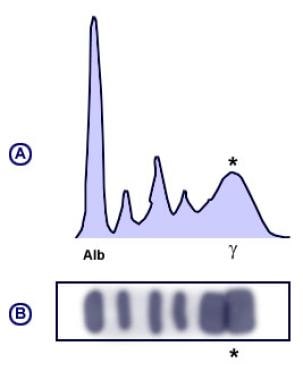 Polyclonal pattern serum protein electrophoresis (SPEP).
Table 2. Diseases Associated with a Polyclonal Gammopathy (Open Table in a new window)
Condition

Examples

Liver disease

Cirrhosis, autoimmune or viral hepatitis

Connective tissue diseases

Rheumatoid arthritis, systemic lupus erythematosus, scleroderma, Sjogren syndrome

Infection

Bacterial: osteomyelitis, endocarditis, osteomyelitis

Viral: HIV/AIDS, hepatitis C, Epstein-Barr virus

Hematologic disorders/malignancies

Non-Hodgkin lymphoma, chronic lymphocytic leukemia, thalassemia, sickle cell anemia

Nonhematologic malignancies

Lung, ovarian, gastric malignancies, hepatocellular carcinoma
---
Did this answer your question?
Additional feedback? (Optional)
Thank you for your feedback!