Answer
Answer
A dense narrow band that is composed of a single class of immunoglobulins secreted by an abnormally expanded clone of plasma cells is known as M-protein (paraprotein, monoclonal protein, or M-component). [3, 4] An M-protein usually presents as a single narrow peak, resembling a "church spire," in the gamma, beta, or alpha-2 region of the densitometer tracing, or as a dense, discrete band on the agarose gel (see image below).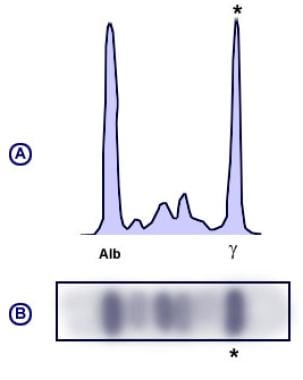 Monoclonal pattern serum protein electrophoresis (SPEP).
The monoclonal antibody must be present at a concentration of at least 0.5 g/dL in order to be accurately identified using SPEP. This corresponds to approximately 109 antibody-producing cells. [5] Plasma cell disorders are typically associated with the presence of an M-protein (see Table 2 below). In addition, an M component may be detected in other lymphoid malignancies like chronic lymphocytic leukemia, any B- or T- cell lymphomas, breast cancer, colon cancer, cirrhosis, sarcoidosis, and other autoimmune disorders.
Conditions associated with a monoclonal increase in the gamma region are as follows:
Monoclonal gammopathy of undetermined significance (MGUS)

Polyneuropathy, organomegaly, endocrinopathy, monoclonal gammopathy, and skin changes (POEMS syndrome)

Heavy chain deposition disease

Light chain deposition disease
---
Did this answer your question?
Additional feedback? (Optional)
Thank you for your feedback!