Answer
Answer
Immunofixation can either reveal a normal pattern or identify a monoclonal protein or a polyclonal immunoglobulin pattern.
A normal result includes a darker immunoglobulin G (IgG) lane, a lighter immunoglobulin A (IgA), an absent immunoglobulin M (IgM), and a denser kappa compared to lambda lane, with ratio of 2:1. In a normal result, the lanes are broad and there is a gradual and smooth reduction in the color density toward the edges of the lane with no narrow dense band with sharp borders identified within the lane.
In some cases, all the lanes are homogeneously darkened to the same degree. This pattern represents the presence of polyclonal immunoglobulin. Again, the lanes are broad and the transition to the lane borders is smooth. In this case, the IgM lane, which is normally absent, is broad with smooth borders.
When a narrow band with sharp borders can be identified, it implies the presence of a monoclonal protein (see image below).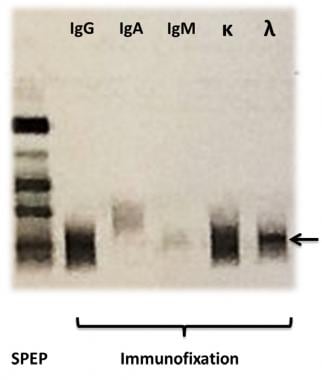 On the left a serum protein electrophoresis (SPEP) of a patient with a monoclonal band in the gamma region is shown. Subsequent immunofixation with electrophoresis identified the monoclonal protein as an IgG antibody (paraprotein) with a lambda light chain (arrow).
Finally, when several bands with sharp borders are seen after immunofixation in cerebrospinal fluid (CSF) but not in serum, the result is reported as positive for oligoclonal bands.
---
Did this answer your question?
Additional feedback? (Optional)
Thank you for your feedback!