Answer
Answer
Pleural synovial sarcomas stain positive for both cytokeratin (especially CK7) and EMA, which is usually more intense and prominent in the epithelial component. Staining for epithelial markers may be focal, especially in the spindle cell component. Vimentin is strongly and diffusely positive in spindle cells, and Bcl-2 and CD99 are frequently also positive. CEA and Ber-EP4 are variably positive in the epithelial component. Nuclear and cytoplasmic staining for S100 has been reported in up to 30% of synovial sarcomas.
Focal staining for calretinin is often present in either the spindle or epithelial areas of synovial sarcoma and may cause diagnostic confusion with malignant mesothelioma. WT-1 is usually negative in synovial sarcomas, as is CD34. [3, 8, 75]
A pitfall in the diagnosis of synovial sarcoma is the interpretation of entrapped alveolar pneumocytes as an epithelial component of the tumor. Immunostaining for TTF1 can resolve the presence or absence of alveolar pneumocytes. [37]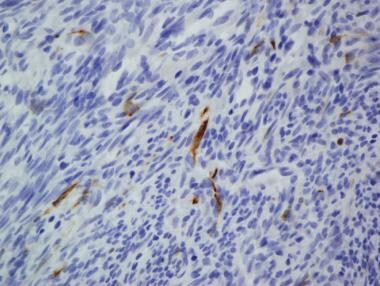 Pathology of nonmesothelial cancers of the pleura. Focal immunoexpression of keratin in malignant spindle cells.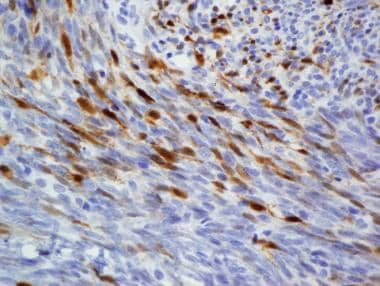 Pathology of nonmesothelial cancers of the pleura. Nuclear expression of calretinin in tumor cell nuclei.
---
Did this answer your question?
Additional feedback? (Optional)
Thank you for your feedback!