Answer
Answer
Pseudomesotheliomatous adenocarcinoma can be distinguished immunohistochemically from pleural epithelioid mesothelioma by the expression of adenocarcinoma markers such as m-CEA, TTF-1, BerEP4, CD15, and B72.3 and the absence of mesothelioma markers such as calretinin, D2-40, and thrombomodulin. [46, 70] Metastatic adenocarcinoma from an extrapulmonary site can be evaluated with site-sensitive markers such as ER, PR and E-cadherin for breast primary tumors; thyroglobulin for thyroid carcinoma; and CD10 and RCC for renal cell carcinoma.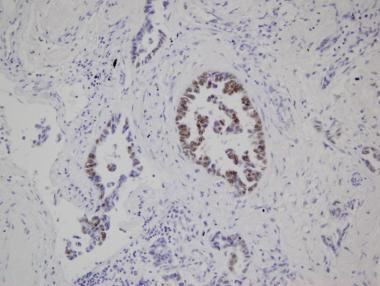 Pathology of nonmesothelial cancers of the pleura. Nuclear staining for thyroid transcription factor 1 (TTF-1) is consistent with primary adenocarcinoma of the lung and helps to exclude the diagnosis of epithelioid mesothelioma.
---
Did this answer your question?
Additional feedback? (Optional)
Thank you for your feedback!