Answer
Answer
Askin tumors exhibit 3 patterns of cell organization: diffuse sheets of cells, tumor cells with a nesting arrangement separated by fibrovascular stroma, or serpiginous bands of cells with necrosis. [19] The neoplastic cells are round to oval with scant cytoplasm and a dense nucleus with evenly distributed coarse chromatin without prominent nucleoli. A moderate number of mitotic figures may be present. Homer-Wright–like neural rosettes may occasionally be seen. [19] PAS-diastase stain is usually negative for glycogen, although some tumors may stain positively, further blurring the histological distinction from classical EWS. [18]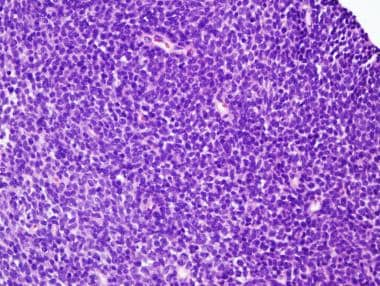 Pathology of nonmesothelial cancers of the pleura. A small round blue cell tumor is consistent with a primitive neuroectodermal tumor involving the chest wall of a 28-year-old woman. Small neoplastic cells are present in a diffuse pattern.
---
Did this answer your question?
Additional feedback? (Optional)
Thank you for your feedback!