Answer
Answer
SFTs are large round to lobulated well-circumscribed tumors that range in size from 1-40 cm and may weigh in excess of 3 kg. [9] Tumors arising from the visceral pleura are often pedunculated and attached to the lung by a vascularized pedicle. Other tumors have a broad-based sessile attachment or may appear to be inverted into the lung. The cut surface of the tumor is fleshy, white to gray, often with a whorled pattern. Variably sized cysts are noted in about 13% of cases and tend to be concentrated near the point of pleural attachment. [9] Rarely, SFTs may be multiple. [8]
Malignant SFTs tend to be of large size (>10 cm in diameter) and exhibit areas of hemorrhage and necrosis. Tumors that undergo malignant transformation may be less well circumscribed with infiltration of lung and chest wall and exhibit more diffuse spread within the thoracic cavity. Other gross features that may suggest malignancy include occurrence in the parietal pleura, sessile attachment, associated pleural effusion, and local tumor recurrence following surgical resection. [3, 9]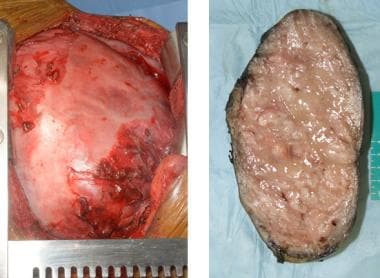 Pathology of nonmesothelial cancers of the pleura. Left image: Large solitary fibrous tumor fills the thoracic cavity as seen at thoracotomy. Right image: Cut surface of the tumor is tan-gray, with a whorled appearance. Large tumor size is often associated with malignant behavior.
---
Did this answer your question?
Additional feedback? (Optional)
Thank you for your feedback!