Answer
Answer
Grossly, pseudomesotheliomatous carcinoma presents as a rind of thick, white to tan, firm tissue encasing the lung in a pattern resembling mesothelioma or fibrothorax. Both parietal and visceral pleura are often involved, and the pleural surfaces are frequently described as being studded with tumor nodules or plaquelike thickening.
In advanced cases, the parietal and visceral pleura are densely adhesed, and sharp extrapleural dissection is required for the removal of the lung at thoracotomy or autopsy. Often, the lung parenchymal primary lesion thought to give rise to the extensive pleural involvement is inconspicuous or is unable to be identified grossly. [4, 5, 53]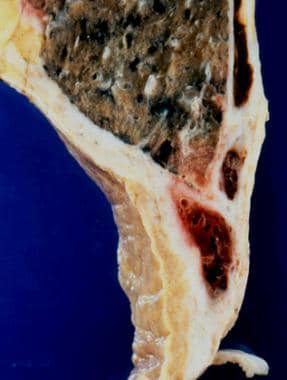 Pathology of nonmesothelial cancers of the pleura. Pseudomesotheliomatous adenocarcinoma. The rind of the tumor encases the lower lobe in the region of the costophrenic angle.
---
Did this answer your question?
Additional feedback? (Optional)
Thank you for your feedback!