Answer
Answer
Acute rejection
Acute rejection may occur at any time (days to years) following transplantation, but it is primarily seen between 2 and 9 months. The diagnosis is based on the presence of perivascular or airway inflammatory infiltrates that are composed mainly of activated lymphocytes but also contain few eosinophils, neutrophils, and plasma cells. The intensity and the distribution of the infiltrate form the basis of the histologic grade. With multiple foci of rejection, the grade reflects the most advanced pattern of rejection rather than the predominant or average pattern.
It is imperative to note evidence of aspiration (see image below) or concomitant infection, because these may precipitate rejection. Clinical findings play no role in the histopathologic grading of lung transplant rejection.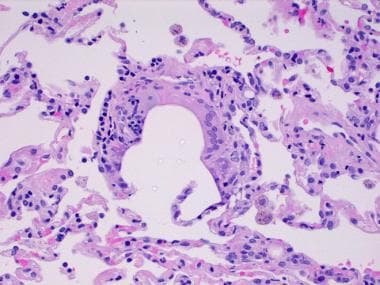 Lung transplantation-related pathology. Intraalveolar multinucleated giant cell indicates microaspiration in this posttransplant transbronchial biopsy specimen (hematoxylin and eosin [H&E], 200x)
---
Did this answer your question?
Additional feedback? (Optional)
Thank you for your feedback!