Answer
Answer
The physiology of oxygen transport can be described as follows:
One gram of adult hemoglobin binds to 1.39 milliliters of oxygen. The oxyhemoglobin dissociation curve (see the image below) has a characteristic sigmoid shape due to the cooperative effect that exists between the multiple oxygen binding sites on the hemoglobin molecule. Factors that modify the ability of hemoglobin to bind oxygen include body temperature, pH of blood and the concentration of 2,3-diphosphoglycerate (2,3-DPG).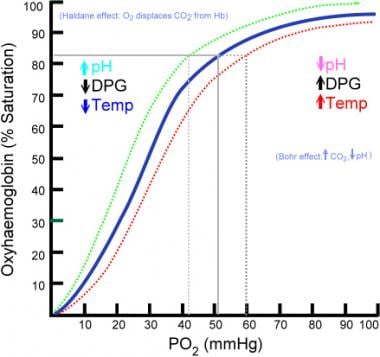 The oxyhemoglobin dissociation curve plots the proportion of hemoglobin in its saturated form on the vertical axis against the prevailing oxygen tension on the horizontal axis. Image courtesy of Wikimedia Commons.
---
Did this answer your question?
Additional feedback? (Optional)
Thank you for your feedback!