Answer
If performed properly, acidified serum lysis and the Ham test (from Thomas Hale Ham) are reliable ways to diagnose PNH (see image below). Dr. Ham demonstrated that the RBCs in PNH were lysed by complement when normal serum was acidified or activated by alloantibodies.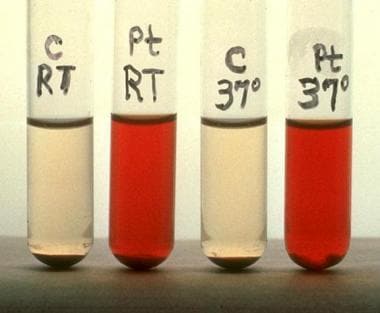 The Ham test (acidified serum lysis) establishes the diagnosis of paroxysmal nocturnal hemoglobinuria (PNH), demonstrating a characteristic abnormality of PNH red blood cells by acidified fresh normal serum. Here is a PNH patient's (Pt) red blood cells lysed by normal serum at room temperature (RT) and at 37°C compared with normal red cells (no hemolysis) (control [C]). Heated serum at 56°C inactivates complement and prevents hemolysis in PNH cells. Permission to use this image has been granted by the American Society of Hematology Slide Bank, 3rd edition.
---
Did this answer your question?
Additional feedback? (Optional)
Thank you for your feedback!