Answer
Patients with moderate-to-severe anemia require RBC replacement (see the image below). Transfusing packed RBCs for severe or symptomatic anemia benefits the patient temporarily, only for the life span of the transfused RBCs (2-4 wk). Patients with congestive heart failure may not tolerate the same degree of anemia as young patients with normal cardiac function, and slow or small-volume (eg, packed RBCs) transfusions with judicious use of diuretics should be considered. For bone marrow transplantation candidates who are cytomegalovirus (CMV) negative, CMV-negative or leukopheresed) blood products are recommended whenever possible. [24]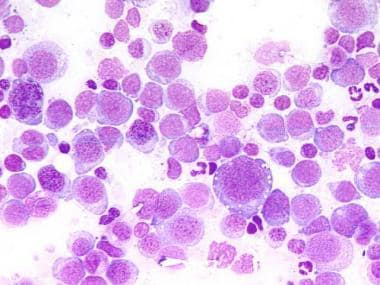 This bone marrow film (400× magnification) demonstrates an almost complete replacement of normal hematopoiesis by blasts in a refractory anemia with an excess of blasts in transformation. Note the signs of abnormal maturation such as vacuolation, double nucleus, and macrocytosis. Courtesy of U. Woermann, MD, Division of Instructional Media, Institute for Medical Education, University of Bern, Switzerland.
---
Did this answer your question?
Additional feedback? (Optional)
Thank you for your feedback!