Answer
Other changes include binuclearity or multinuclearity in the erythroid cell precursor cells and the presence of ringed sideroblasts (iron accumulation in the mitochondria). Refractory anemia with ringed sideroblasts (RARS) is one of the MDS types in the French-American-British (FAB) Cooperative Group classification system. (See the image below.)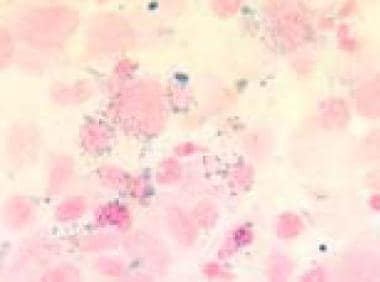 Bone marrow film (1000× magnification) demonstrating ring sideroblasts in Prussian blue staining in a refractory anemia with excess of blasts in transformation. Courtesy of U. Woermann, MD, Division of Instructional Media, Institute for Medical Education, University of Bern, Switzerland.
---
Did this answer your question?
Additional feedback? (Optional)
Thank you for your feedback!