Answer
RAEB and RAEB-T (see the image below) are characterized by greater than 5% myeloblasts. The higher the percentage of myeloblasts present, the shorter the clinical course and the closer the disease is to acute myelogenous leukemia.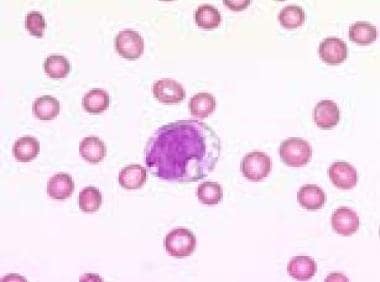 Blood film (1000× magnification) demonstrating a vacuolated blast in a refractory anemia with excess of blasts in transformation. Courtesy of U. Woermann, MD, Division of Instructional Media, Institute for Medical Education, University of Bern, Switzerland.
---
Did this answer your question?
Additional feedback? (Optional)
Thank you for your feedback!