Answer
RA and RARS are characterized by 5% or less myeloblasts in bone marrow. RARS is defined morphologically as having 15% erythroid cells with abnormal ringed sideroblasts (see the image below), reflecting an abnormal accumulation of iron in the mitochondria. Both RA and RARS have a prolonged clinical course and a low prevalence of progression to acute leukemia. In a review of United Kingdom population-based data, with followup of 2 to 11 years, progression to acute leukemia occurred in 5% of RARS cases, compared with 25% of RAEB cases. [13]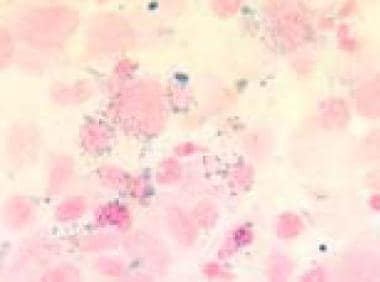 Bone marrow film (1000× magnification) demonstrating ring sideroblasts in Prussian blue staining in a refractory anemia with excess of blasts in transformation. Courtesy of U. Woermann, MD, Division of Instructional Media, Institute for Medical Education, University of Bern, Switzerland.
---
Did this answer your question?
Additional feedback? (Optional)
Thank you for your feedback!