Answer
Aortography has been the diagnostic criterion standard study for aortic dissection, but it is difficult to perform in patients with hemorrhage, shock, and/or cardiac tamponade. Aortography is being replaced by newer imaging modalities because of risks associated with invasiveness and adverse reactions to intravenous contrast agents.
Aortography (see the image below) leads to accurate diagnosis of aortic dissection in over 95% of patients and aids the surgeon in planning the repair operation because blood vessels of the arch can be assessed easily.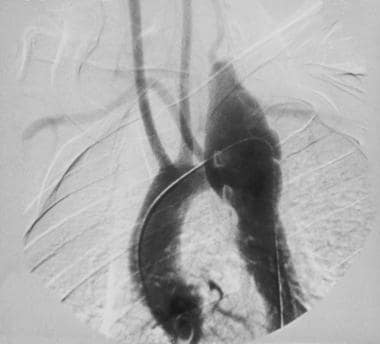 Angiogram demonstrating dissection of the aorta in a patient with aortic dissection presenting with hemothorax.
Benefits include visualization of the true and false lumens, intimal flap, aortic regurgitation, and coronary arteries.
---
Did this answer your question?
Additional feedback? (Optional)
Thank you for your feedback!