Answer
Answer
The first case of human immunodeficiency virus (HIV) was reported in 1985. The global burden of the disease is approximately 33 million, with 67% of those affected living in impoverished sub-Saharan Africa, where malnutrition is rampant because the daily household income is less than 1 US dollar per day. The progression of the disease and death from AIDS reached an incredible 72% in 2008. According to UNICEFUSA, currently, 6.65 million people are being treated for HIV, but the global population continues to get infected. HIV is contracted during early adulthood in a lot of developing countries; this also results in difficulty in procuring food because many of those affected are the sole bread winners for their family and themselves.
Note the chart below.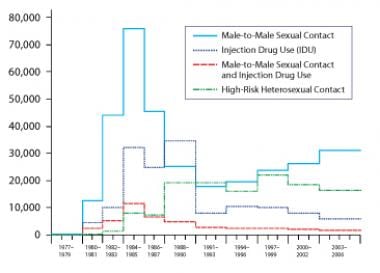 Incidence of HIV infection by risk group. From the CDC Web site (copyright free) derived from the revised 2006 estimated figures.
HIV causes significant immunosuppression in the infected individual. Weight loss of more than 5% with concomitant HIV infection is associated with accelerated disease progression, impaired functional status, and increased mortality. [1] Malnutrition in HIV individuals is not only a problem in low income countries but also in developed countries. Several analyses have shown accelerated mortality (< 6 months) with initiation of Antiretroviral therapy (ART) if the patient's body mass index (BMI) was less than 18. [2, 3] A BMI of less than 16 is associated with a 2-fold increase in death if the HIV patient is also on ART.
The relationship between nutrition and HIV infection is very complex and is modified by factors such as nutritional status, including wasting or obesity, and micronutrient deficiencies along with HIV disease stage. Starting assessment, counseling, and education regarding nutrition shortly after HIV diagnosis is imperative. Good nutrition has been proven to increase resistance to infection and disease and improves energy. Severe malnutrition in HIV-infected persons is recognized as the "wasting syndrome," defined by the Centers for Disease Control and Prevention (CDC) as a body weight loss equal to or greater than 10% with associated fatigue, fever, and diarrhea unexplained by another cause. [4]
Mehta et al (2008), in his study on pregnant HIV-infected women in Africa, noted that having a BMI of less than 21.8, a hemoglobin concentration of less than 8.5 g/dL, and weight loss or excessive weight gain during pregnancy was associated with adverse outcomes. [5]
---
Did this answer your question?
Additional feedback? (Optional)
Thank you for your feedback!