Answer
To understand how thrombosis occurs in protein S deficiency, its physiological function should be briefly reviewed. Protein S is part of a system of anticoagulant proteins that regulate normal coagulation mechanisms in the body. [4] Under most normal circumstances, the anticoagulant proteins prevail and blood remains in a liquid nonthrombotic state. Whenever procoagulant forces are locally activated to form a physiologic or pathologic clot, protein S participates as part of one mechanism of controlling clot formation. [5]
Protein S functions predominantly as a nonenzymatic cofactor for the action of another anticoagulant protein, activated protein C (APC). This activity occurs via a coordinated system of proteins, termed the protein C system. The image below shows a simplified outline of the function of protein S in the protein C system.
A simplified outline of the function of protein S in the protein C system.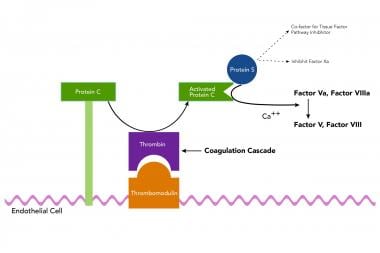 A simplified outline of the function of protein S in the protein C system.
During the process of clotting, multimolecular complexes are formed on membrane surfaces. These membranes are usually negatively charged phospholipids and/or activated platelets. These multimolecular complexes are referred to as the tenase and prothrombinase complexes for their key activities of activation of factor X and prothrombin, respectively. Anchoring these two complexes are the activated form of factor VIII (FVIIa) used for the tenase complex and the activated form of factor V (FVa) for the prothrombinase complex. These two large proteins are homologous in structure and are cofactors, not enzymes, in the clotting process.
In one of many examples of nature's efficiency, the same enzyme that clots blood, thrombin, is converted from clotting to an anticoagulant mechanism on the surface of the endothelium and it then activates protein C to its active enzymatic form, APC. APC requires protein S as a cofactor in its enzymatic action on its 2 substrates, FVa and FVIIIa. Thus, this process is designed to dampen and shut off clotting by switching off the key cofactor proteins FVa and FVIIIa. Protein S and APC are sufficient to inactivate FVa. However, for the inactivation of FVIIIa, APC and protein S require the help of the nonactivated clotting protein, factor V. This is another example of dual use of a protein in this same process.
---
Did this answer your question?
Additional feedback? (Optional)
Thank you for your feedback!