Answer
These infections can be difficult to recognize in their early stages, but they rapidly progress. (see Clinical and Workup). They require aggressive treatment to combat the associated high morbidity and mortality (see Treatment).
Images of necrotizing fasciitis are shown below.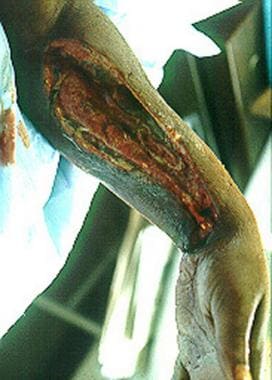 Left upper extremity shows necrotizing fasciitis in an individual who used illicit drugs. Cultures grew Streptococcus milleri and anaerobes (Prevotella species). Patient would grease, or lick, the needle before injection.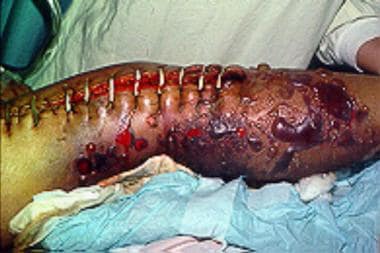 Left lower extremity in a 56-year-old patient with alcoholism who was found comatose after binge drinking. Surgical drainage was performed to treat the pyomyositis-related, large, non–foul-smelling (sweetish) bullae. Gram staining showed the presence of gram-positive rods. Cultures revealed Clostridium perfringens. The diagnosis was clostridial myonecrosis.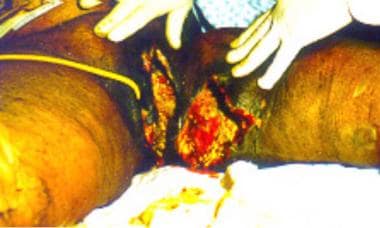 Sixty-year-old woman who had undergone postvaginal hysterectomy and repair of a rectal prolapse has a massive perineal ulceration with foul-smelling discharge. Cultures revealed Escherichia coli and Bacteroides fragilis. The diagnosis was perineal gangrene.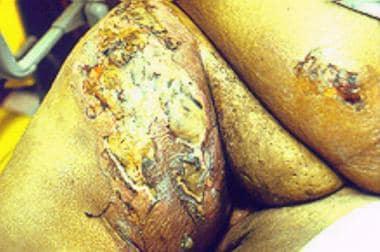 Necrotizing fasciitis at a possible site of insulin injection in the left upper part of the thigh in a 50-year-old obese woman with diabetes.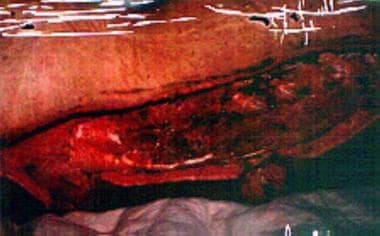 Necrotizing fascitis of entire thoracolumbar posterior area in 20-year-old patient with chronic myelogenous leukemia and neutropenia (WBC count, 680/uL). Cultures revealed gram-negative Pseudomonas species and Bacteroides fragilis.
---
Did this answer your question?
Additional feedback? (Optional)
Thank you for your feedback!