Answer
Bone marrow studies are not necessary to establish the diagnosis of polycythemia vera. If such studies are performed, however, the finding of hypercellularity and hyperplasia of the erythroid, granulocytic, and megakaryocytic cell lines or myelofibrosis supports the diagnosis of a myeloproliferative process. See the image below.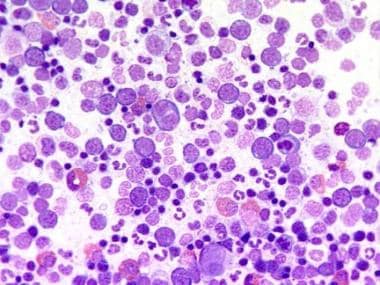 Bone marrow film at 400X magnification demonstrating dominance of erythropoiesis. Courtesy of U. Woermann, MD, Division of Instructional Media, Institute for Medical Education, University of Bern, Switzerland.
Iron stores are decreased or absent because of the increased red blood cell mass, and macrophages may be masked in the myeloid hyperplasia that is present. Fibrosis is increased and detected early by silver stains for reticulin.
Cytogenetics of the bone marrow cells show a clonal abnormality in 30% of patients who are not treated and in 50% of patients who are treated with alkylating or myelosuppressive agents. These chromosomal abnormalities include deletions of the long arm of chromosome 5 or 20 (5q-, 20q-) and trisomy 8 (+8) or 9 (+9). Leukemic transformation is usually associated with multiple or complex abnormalities.
Measuring spontaneous growth of erythroid progenitors in cultures (burst-forming unit, erythroid [BFU-E]) in the absence of Epo is a very sensitive test for polycythemia vera (PV) or familial erythrocytosis. However, it is not routinely available for clinical use.
The hemoglobin-oxygen dissociation curve may be useful in rare cases to detect a congenital hemoglobinopathy with increased oxygen affinity. This condition can occur in families.
---
Did this answer your question?
Additional feedback? (Optional)
Thank you for your feedback!