Answer
Answer
Hemoglobin A1c is a specific fraction of hemoglobin A found in healthy individuals as well as individuals with diabetes mellitus. It is formed when the N-terminal valine of the beta chain of hemoglobin A is modified by the addition of a sugar moiety. This process is nonenzymatic, so the term glycation is preferred to the term glycosylation, although the latter is commonly used. Once formed, hemoglobin A1c is stable. As a result, the hemoglobin A1c level reflects the average blood glucose level over the course of the red blood cell's lifespan, roughly 120 days.
A landmark paper showed convincingly that intensive control of diabetes (ie, maintaining near-normal concentrations of glucose throughout the day, reflected in lower A1c levels) "delays the onset and slows the progression of diabetic retinopathy, nephropathy, and neuropathy." [7] Fingerstick glucose measurements by patients remain the mainstay of diabetes management for adjusting daily insulin doses, but this study established the importance of ongoing, periodic A1c measurements to monitor compliance and efficacy of therapy.
For example, in patients whose records of fingerstick glucose are incomplete, reflecting good control in the week prior to a physician's visit, a hemoglobin A1c value of 6.8% is reassuring, whereas a value of 9.6% indicates that glucose levels were probably much higher in the preceding weeks.
A limitation of hemoglobin A1c is that it does not provide any indication of the changes in glucose concentrations throughout the day, for which frequent glucose measurements are needed. In the image below, both patients would have the same A1c level, but the patient in blue has far fewer highs and lows, and represents a much better degree of control.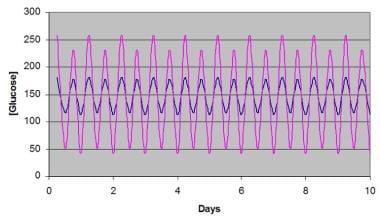 Same average blood glucose.
The extent of hemoglobin glycation is related not only to the glucose concentration in blood but also to the average RBC lifespan. In patients with shortened average lifespans, the hemoglobin A1c level can be misleading (falsely low). [12, 13] Similarly, in patients who have recently been transfused, the hemoglobin A1c level will reflect, to some extent, the donors' glucose levels.
---
Did this answer your question?
Additional feedback? (Optional)
Thank you for your feedback!