Answer
Intramuscular (IM) administration of 1000 µg of vitamin B12 can be used as a clinical trial for suspected cobalamin deficiency. Subjectively, patients who are cobalamin deficient usually begin to experience a marked sense of well-being within 24 hours after administration. Objectively, administration of cobalamin produces a marked reticulocytosis, which reaches its maximal level 5-7 days after the injection; correction of the anemia occurs in about 3 weeks (see the image below).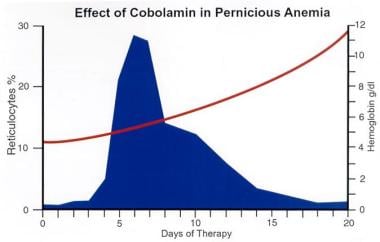 Response to therapy with cobalamin (Cbl) in a previously untreated patient with pernicious anemia. A reticulocytosis occurs within 5 days after an injection of 1000 mcg of Cbl and lasts for about 2 weeks. The hemoglobin (Hgb) concentration increases at a slower rate because many of the reticulocytes are abnormal and do not survive as mature erythrocytes. After 1 or 2 weeks, the Hgb concentration increases about 1 g/dL per week.
---
Did this answer your question?
Additional feedback? (Optional)
Thank you for your feedback!