Answer
The peripheral blood usually shows a macrocytic anemia with a mild leukopenia and thrombocytopenia. The mean cell volume (MCV) and mean cell hemoglobin (MCH) are increased, with a mean corpuscular hemoglobin concentration (MCHC) within the reference range (see the image below). The leukopenia and thrombocytopenia usually parallel the severity of the anemia.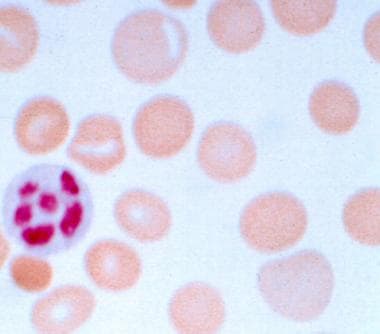 Peripheral smear of blood from a patient with pernicious anemia. Macrocytes are observed, and some of the red blood cells show ovalocytosis. A 6-lobed polymorphonuclear leucocyte is present.
The peripheral smear shows oval macrocytes, hypersegmented granulocytes, and anisopoikilocytosis. In severe anemia, red blood cell inclusions may include Howell-Jolly bodies, Cabot rings, and punctate basophilia. The macrocytosis can be obscured by the coexistence of iron deficiency, thalassemia minor, or inflammatory disease.
---
Did this answer your question?
Additional feedback? (Optional)
Thank you for your feedback!