Answer
Cobalamin deficiency may result from dietary insufficiency of vitamin B12; disorders of the stomach, small bowel, and pancreas; certain infections; and abnormalities of transport, metabolism, and utilization (see Etiology). Deficiency may be observed in strict vegetarians. [3] Breastfed infants of vegetarian mothers also are affected. Severely affected infants of vegetarian mothers who do not have overt cobalamin deficiency have been reported.
Meat and milk are the main source of dietary cobalamin. Because body stores of cobalamin usually exceed 1000 µg and the daily requirement is about 1 µg, strict adherence to a vegetarian diet for more than 5 years usually is required to produce findings of cobalamin deficiency.
Classic pernicious anemia produces cobalamin deficiency due to failure of the stomach to secrete IF (see the image below).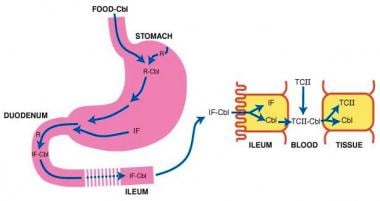 Pernicious anemia. Cobalamin (Cbl) is freed from meat in the acidic milieu of the stomach where it binds R factors in competition with intrinsic factor (IF). Cbl is freed from R factors in the duodenum by proteolytic digestion of the R factors by pancreatic enzymes. The IF-Cbl complex transits to the ileum where it is bound to ileal receptors. The IF-Cbl enters the ileal absorptive cell, and the Cbl is released and enters the plasma. In the plasma, the Cbl is bound to transcobalamin II (TC II), which delivers the complex to nonintestinal cells. In these cells, Cbl is freed from the transport protein.
---
Did this answer your question?
Additional feedback? (Optional)
Thank you for your feedback!