Answer
The patient is placed in a supine position, and the abdomen is prepared and draped. A low midline incision is made. The area of the volvulus and the terminal ileum are exteriorized. The volvulus is reduced through counterclockwise detorsion, because the torsion occurs in a clockwise direction.
The terminal ileum is clamped and divided. The transverse colon immediately proximal to the middle colic artery is circumferentially isolated and divided between clamps. The colon is mobilized by dividing the mesentery and the peritoneal reflections (see the first image below). The divided bowel ends are approximated in a tension-free manner by using a hand-sewn technique or a GI stapler (see the second image below).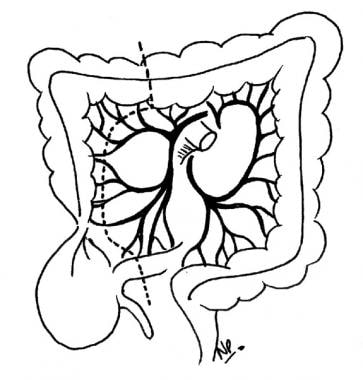 Extent of resection for cecal volvulus is similar to that in right hemicolectomy for benign disease.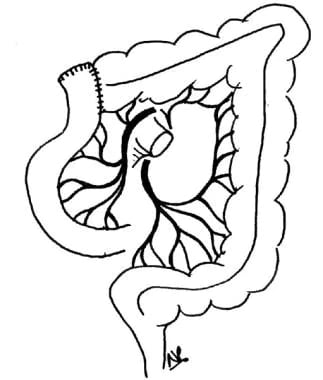 Terminal ileum is anastomosed to transverse colon in reconstruction after right hemicolectomy.
---
Did this answer your question?
Additional feedback? (Optional)
Thank you for your feedback!