Answer
The patient is placed in a supine position, and a low midline incision is made. The omega loop of the sigmoid colon is resected. The proximal divided end of the colon is mobilized sufficiently to create a tension-free end colostomy. The distal stapled end of the bowel remains in the pelvis (see the image below). A Hartmann procedure is also a good option in a severely debilitated, bedridden patient who requires long-term care.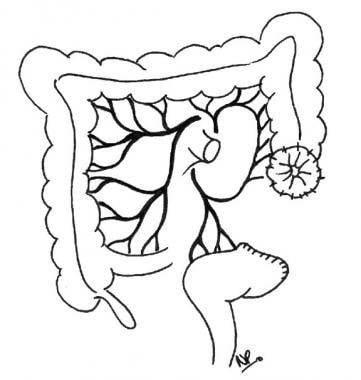 Hartmann procedure for sigmoid volvulus.
Patients who undergo a Hartmann procedure may be candidates for colostomy reversal in 3-6 months. This decision whether to proceed with reversal is based on the patient's overall clinical condition and ability to withstand another major surgical procedure. Debilitated patients who require long-term institutional care may not benefit from colostomy reversal.
---
Did this answer your question?
Additional feedback? (Optional)
Thank you for your feedback!