Answer
The patient is placed in a dorsal lithotomy position with Lloyd Davis stirrups. This allows for the possibility that an unexpectedly low anastomosis may be required, which can be accomplished through transanal passage of an end-to-end anastomosis (EEA) stapler. The abdomen and perineum are prepared and draped separately. The perineum remains draped until it is time to pass the stapling device.
A low midline incision is made. The massively dilated sigmoid colon loop is immediately encountered. This is exteriorized, and the volvulus is detorsed by rotating it clockwise (because a sigmoid volvulus is usually the result of counterclockwise torsion). The colon proximal and distal to the site of torsion is circumferentially isolated and clamped. The inferior mesenteric artery is divided where it is easily accessible.
Often, detorsion is not possible, because of adhesions at the base of the mesentery. In these instances, the omega loop is resected by clamping and dividing the bowel proximal and distal to the loop. The sites of transection are chosen to allow a well-perfused, tension-free anastomosis (see the first image below). The anastomosis can be completed in a hand-sewn fashion or with a gastrointestinal (GI) stapling device (see the second image below).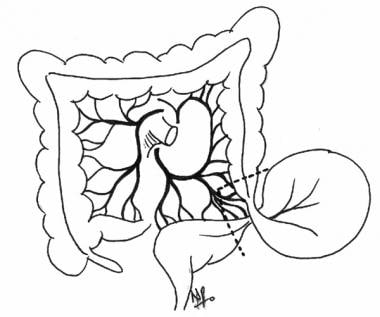 Extent of resection required for sigmoid volvulus is limited to resection of omega loop of sigmoid volvulus and resection of sigmoid mesentery.
Divided descending colon and rectum are reanastomosed in hand-sewn manner or with GI stapling device.
In the event of a failed sigmoidoscopic reduction or a suspected ischemic bowel, the divided bowel is carefully inspected to ensure good supply.
---
Did this answer your question?
Additional feedback? (Optional)
Thank you for your feedback!