Answer
Cecal volvulus produces large- and small-bowel obstruction. Radiographic findings reveal a markedly distended loop of bowel extending from the right lower quadrant upward to the left upper quadrant. The small bowel is distended, whereas the distal colon is decompressed (see the image below).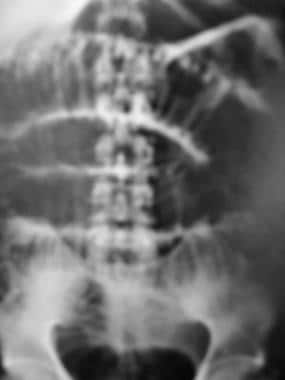 Cecal volvulus with associated small bowel obstruction.
Detailed overviews of the radiologic findings of colonic volvulus are available elsewhere (see Sigmoid Volvulus and Cecal Volvulus).
---
Did this answer your question?
Additional feedback? (Optional)
Thank you for your feedback!