Answer
Cecal volvulus may be organoaxial (true cecal or cecocolic volvulus) or mesentericoaxial (cecal bascule). The former involves the distal ileum and ascending colon twisting around each other, in much the same way as a sigmoid volvulus. Compared with sigmoid volvulus, in which the torsion is in a counterclockwise direction, cecal volvulus usually occurs in a clockwise direction.
Incomplete cecal and ascending colonic fixation occurs because of a lack of embryologic development of the dorsal mesentery. The lack of development predisposes the patient to clockwise torsion of the cecum, terminal ileum, and ascending colon (see the images below). Vascular compromise is common because of mesenteric torsion.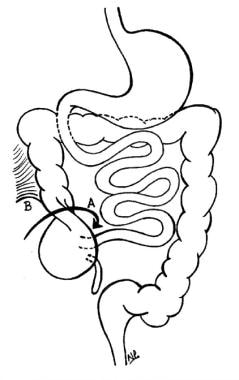 Cecal volvulus. (A) Clockwise torsion of mesentery of cecum, ascending colon, and terminal ileum. (B) Absence of dorsal mesenteric attachments of cecum and proximal ascending colon, leading to lack of fixation to retroperitoneum.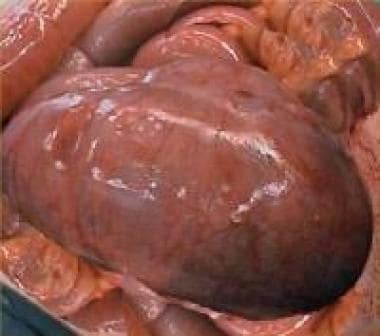 Cecal volvulus with ischemic changes of distended cecum and terminal ileum. Remainder of small bowel involved in volvulus appears distended but not ischemic. No obvious peritoneal contamination is observed.
---
Did this answer your question?
Additional feedback? (Optional)
Thank you for your feedback!