Answer
As a result of repeated subacute attacks of torsion, the base of the sigmoid mesocolon becomes foreshortened. The associated mild, chronic inflammation at the base of the mesentery and the two limbs of the sigmoid colon loop leads to the formation of adhesive tissue. This causes the sigmoid loop to become chronically fixed into a paddlelike configuration, which, in turn, predisposes to recurrence of the torsion (see the image below).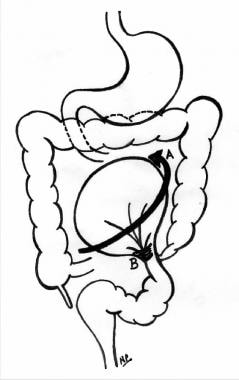 Sigmoid volvulus. (A) Counterclockwise torsion at base of mesentery. (B) Adhesions at base of sigmoid mesocolon leading to formation of fixed omega loop that is susceptible to repeat torsion.
---
Did this answer your question?
Additional feedback? (Optional)
Thank you for your feedback!