Answer
Resection of the colon is based on the arterial supply to its various anatomic divisions (see the image below). The ascending colon and cecum are supplied by the superior mesenteric artery via the ileocolic and right colic arteries. Adjacent to the colonic wall, these arteries form arcades that give off the vasa recta. The vasa recta divide into short and long branches that supply the medial and lateral aspects of the colon, respectively.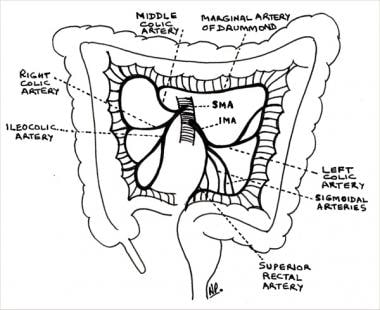 Arterial blood supply to colon.
---
Did this answer your question?
Additional feedback? (Optional)
Thank you for your feedback!